Left to right: Cheznie Carter, Shaylee Echeverria, Kadance Orozco and Makaela Mackay scored seven home runs in their win against Mogollan April 12. (Photo/Raul Hatch)
Stories this photo appears in: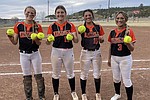 The city of Williams will be honoring the Williams Vikings softball state champions this week.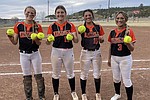 The Lady Vikings faced off against the Mogollon Mustangs in an away game April 12, emerging victorious with a 19-2 win fueled by an impressive seven home runs.