Arizona Mountaineering Club members gather for a group photo on the South Rim of the Grand Canyon Sept. 24, 2022. This weekend marks the 32nd year that the AMC performed their 'Over the Edge' Cleanup on the South Rim — and for the first year ever, on the North Rim. (Photo/Joelle Baird/NPS)
Stories this photo appears in: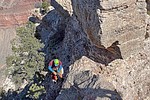 GRAND CANYON, Ariz. — More than $750 coins. That's the total from the more than 12,000 coins the Arizona Mountaineering Club (AMC) has collected over the past five years by rappelling below the rim at Grand Canyon National Park.