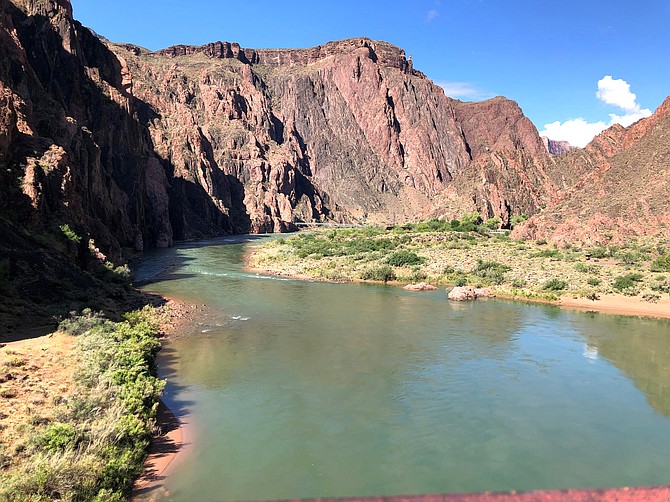 The Colorado River in Grand Canyon National Park. (Wendy Howell/WGCN)
Stories this photo appears in:
GRAND CANYON, Ariz. — Grand Canyon National Park Superintendent Ed Keable has announced the Prospectus Release for the 16-contracts to provide guided interpretive multi-day whitewater tours within Grand Canyon National Park, Glen Canyon National Recreation Area, and Lake Mead National Recreation Area.
Within the past several weeks, there have been multiple reports of wasp and bee issues in the park.
The U.S. Bureau of Reclamation in June told the states — Arizona, California, Colorado, Nevada, New Mexico, Utah and Wyoming — to determine how to use at least 15% less water next year, or have restrictions imposed on them.
By Sam Metz and Felicia Fonseca, Associated Press
August 16, 2022
GRAND CANYON, Ariz. — The Senate Energy and Natural Resources Committee considered and offered amendments on the Grand Canyon Protection Act, a bill that will protect about 1 million acres of public lands near Grand Canyon National Park from uranium mining.
Most of the illness was reported in May, with no new cases reported since June 2.
A 47-year-old woman originally from Chicago, Illinois, drowned in the Colorado River June 11 while on a multi-day rafting trip.
To date, there have been approximately 13 river trips reporting GI illness as well as multiple reports of illness among hikers.
The National Park Service said to date there have been approximately 12 river and backcountry groups that have reported gastrointestinal illness, with up to 90 individuals experiencing symptoms, consistent with norovirus.
The park has confirmed norovirus from at least one rafting trip. Reported symptoms include nausea, stomach cramping/pain, vomiting and diarrhea.