Grand Canyon Community Librarian Daniel Bell (above) sits among areas being renovated at Grand Canyon Community Library. Renovations are expected to be complete by mid-April and will include new power and electrical work, new carpet and a larger children's area. (V. Ronnie Tierney/WGCN)
Stories this photo appears in: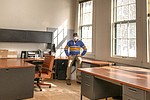 Following a large interior construction and expansion project, the Grand Canyon Community Library building is now open to the public Monday-Friday from 10:30 a.m. to 5 p.m.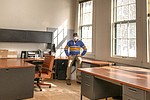 Librarian Daniel Bell said he is very excited about the project and the opportunities it offers.