Williams Volunteer Fire Department pyro crew spent three days setting up for the firework display July 4. From left: Head Pyro Justin Sandoval, Jose Mendoza, Caleb Burlington, Brooklyn Maebe, Cameron Maebe, Jeff Dent, John Learn, Don Mackay and Steve Vanesian.
Stories this photo appears in: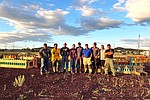 I want to thank the incredible pyro team for all their help for the Fourth of July firework show.