Reporter Frank Vaisvilas talks to sources at the Oneida Emergency Food Pantry in Oneida, Wisconsin. Vaisvilas is a Native American affairs reporter for the USA Today network based at the Green Bay Press-Gazette in Wisconsin. (Sarah Kloepping/Green Bay Press-Gazette via AP)
Stories this photo appears in: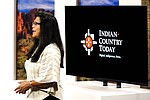 Kiowa tribal member Tristan Ahtone remembers just getting started in journalism over a decade ago and pitching ideas on Indigenous topics. His bosses would say things like: "We ran a Native story earlier this year. Do we need another one?"
By By Katie Oyan, Associated Press
January 12, 2022