Cleo the fennec fox hops on her scale to earn a treat. (Summer Serino/WGCN)
Stories this photo appears in: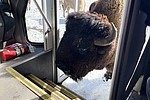 Bearizona recently invited me to join them on their VIP experience. I had only been to the wildlife park once a few years ago and was eager to see what the new tour would offer.