This image from video provided by the Coconino County Superior Court shows Mark Gooch as he appears virtually for a hearing in Coconino County Superior Court in Flagstaff, Ariz., on Thursday, Sept. 9, 2021. Gooch is accused in the death of a Sasha Krause who lived in a Mennonite community near Farmington, New Mexico. Her body was found outside Flagstaff, Arizona, in February 2020, more than a month after she disappeared. (Coconino County Superior Court via AP)
Stories this photo appears in: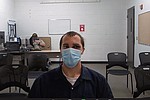 FLAGSTAFF, Ariz. (AP) — The brother of a U.S. Air Force airman on trial in the death of a Mennonite woman testified Sept. 29 that the defendant asked him to remotely scrub information from his cellphone shortly before he was arrested and later charged with kidnapping and murder.
By Felicia Fonseca, Associated Press
September 30, 2021