The Lady Vikings beat Ash Fork Oct. 5. The team includes Brianna Baldosky, Marcie Heap, Lexi Sandoval, Riley McNelly, Rory Stevens, Brandalyn McMenamin, Shaelee Echeverria, Melissa Lerman, Kai Mortensen, Kyleigh Amos and Yasmin Captain. (Judy Martinez/WGCN)
Stories this photo appears in: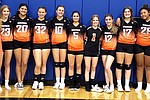 On Oct. 5, the Lady Vikings volleyball team won their away conference match against Ash Fork by a score of 3-0.