U.S. Interior Secretary Deb Haaland listens as Indigenous leaders talk about the need to protect areas beyond the boundaries of Chaco Culture National Historical Park in northwestern New Mexico Nov. 22. (AP Photo/Susan Montoya Bryan)
Stories this photo appears in: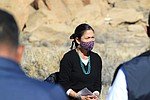 The meetings are part of the public outreach being done by the U.S. Interior Department as it considers the withdrawal from nearly 550 square miles around Chaco Culture National Historical Park.
By By Susan Montoya Bryan, Associated Press
April 29, 2022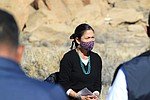 The Bureau of Land Management made the announcement March 25, saying the deadline for comments has been pushed back to May 6 to allow more time for people to comment.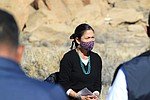 The stillness that enveloped Chaco Canyon was almost deafening, broken only by the sound of a raven's wings batting the air while it circled overhead.
By By Susan Montoya Bryan, Associated Press
November 30, 2021