The Williams 11-12 All-Star team was selected June 1 at Cureton Park in Williams. Players included Robert Kruse, Anthony Martinez, Anthony Soto Islas, Chandler Benavides, DJ Godinez, Spunky Pitts, Jordan Salazar, Jabez Zabala, Mikey Cavaletto, Ricky Gonzalez, Kyle Pearson and Daniel Rigo. (Loretta McKenney/WGCN)
Stories this photo appears in: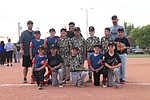 The Williams Little League All-Star teams were selected June 1.