Two city employees at the City Hall in Williams have tested positive for the coronavirus. In response, city offices and Williams Public Library will be closed for up to two weeks. The front lobby of City Hall remains open for bill payments and other city business. (Loretta McKenney/WGCN)
Stories this photo appears in: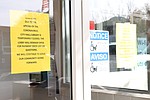 WILLIAMS, Ariz. - A small outbreak of COVID-19 cases among city employees who work inside City Hall has prompted the closure of the offices and library for up to two weeks.