After 42 years, Robynn Eckel has retired from the US Postal Service in Williams. Eckel plans to continue her work with the Save-Meant-to-Rescue animal group and spend time with family and friends. (Wendy Howell/WGCN)
Stories this photo appears in: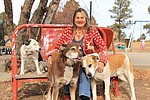 WILLIAMS, Ariz. — With eyes now set on visiting family, restoring her home and rescuing animals, long-time postal employee Robynn Eckel has announced her retirement.