Ariz. Gov. Doug Ducey walks out after addressing the media on COVID-19 during a news conference in Phoenix on Wednesday, Nov. 18, 2020. Behind him is Dr. Cara Christ. Health officials are begging people not to travel for Thanksgiving and asking families to resist inviting anyone over to the house who does not already live there. "Don't let down your guard, even around close friends and relatives who aren't members of your household," Arizona's health department said on Twitter.(Michael Chow/The Arizona Republic via AP)
Stories this photo appears in: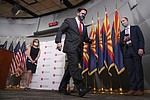 PHOENIX (AP) — The coronavirus outbreak's current surge will present Arizona with a hospital crisis that could become a disaster unless the state takes steps such as ordering a three-week stay-home shutdown and implementing a statewide mask mandate, university researchers said.
By PAUL DAVENPORT, Associated Press
November 30, 2020