Gov. Doug Ducey explains why he's not implementing new restrictions even as he concedes Wednesday, Nov. 18, 2020, that the rate of COVID-19 infection in Arizona is on the rise. With him is state health chief Cara Christ. (Howard Fischer/Capitol Media Services
Stories this photo appears in: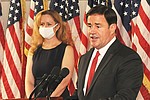 PHOENIX, Ariz. - Gov. Doug Ducey declined Nov. 18 to impose new restrictions or mandates on individuals even as his own health chief warned of an increasing number of Arizonans becoming infected with COVID-19.