Jessy Ellenberger took this photo from the deck of her home north of Granby, Colo., just before sunset on Oct. 21, 2020. Residents in and around a gateway town to Rocky Mountain National Park were evacuated and the park was closed after one of several fires burning in northern Colorado took off. (Jessy Ellenberger via AP)
Stories this photo appears in: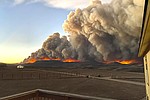 Many areas of Rocky Mountain National Park reopened Nov. 13 after being closed for two weeks after a massive wildfire spread into the park.