Historic Route 66 in downtown Williams remains empty as the state and town respond to the COVID-19 pandemic. (Wendy Howell/WGCN)
Stories this photo appears in: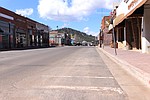 Last week I finally connected with a friend I hadn't heard from in a few weeks. We gave each other updates and she told me this must be a busy and exciting time to be working in the media. Busy? Yes. Exciting? Not so much.