Officer Thomas Sanders with Williams Police Department brings Alayne Newbold supplies March 20. The department is offering to supply food and other necessities to senior citizens. (Loretta McKenney/WGCN)
Stories this photo appears in: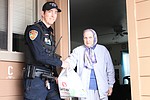 WILLIAMS, Ariz. — During a time of uncertainty, some businesses and non-profits along with the Williams Police Department are working to help those in need.