Arizona Republican Gov. Doug Ducey speaks about the latest coronavirus data at a news conference Thursday, June 25, 2020, in Phoenix. (AP Photo/Ross D. Franklin, Pool)
Stories this photo appears in: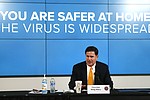 PHOENIX (AP) — In an effort to stop a massive surge in new coronavirus cases, Arizona Gov. Doug Ducey ordered bars, nightclubs, gyms, movie theaters and water parks around the state to be closed for at least 30 days starting June 29.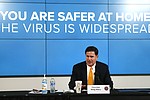 PHOENIX — Gov. Doug Ducey is defending indoor political rallies with thousands of people without masks even as he admitted the only way Arizona will stop the upward trend of infections is if people mask up and stay home.