Stephanie Cahill played club volleyball in high school. A 2019 study in Pediatrics revealed concussion rates were higher for high school girls than in boys in 20 high school sports. (Photo courtesy Kim Hutchinson Cahill)
Stories this photo appears in: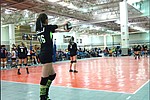 PHOENIX – Research into sports-related concussions started with football injuries but has since spread to other activities where hits and falls are routine, such as hockey, soccer and cheerleading.
By Jordan Rogers, Cronkite News
July 29, 2020