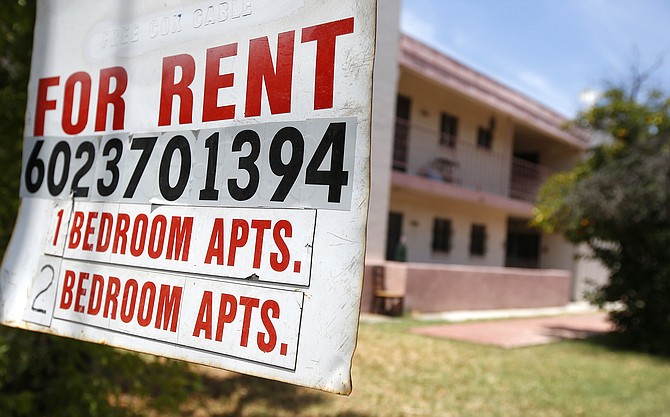 A rental sign is posted in front of an apartment complex July 14, in Phoenix. Housing advocacy groups have joined lawmakers lobbying Arizona Gov. Doug Ducey to extend his coronavirus-era moratorium on evictions when it expires, when the 120-day order ending July 22 was supposed to ensure people would not lose their homes if they fell ill to COVID-19 or lost jobs in the pandemic's economic fallout. (AP Photo/Ross D. Franklin)
Stories this photo appears in:
Five months after the moratorium was first imposed "we are at a breaking point," she said, noting that property owners also have mortgages, taxes and other bills to pay.
By By Anita Snow, Associated Press
August 18, 2020
PHOENIX (AP) — Housing advocacy groups in Arizona have joined lawmakers in lobbying Gov. Doug Ducey to extend his coronavirus-related moratorium on evictions, which will expire next week and allow authorities to start removing hundreds of renters in a state that's a national hot spot for both infections and scorching summer weather.
By ANITA SNOW, Associated Press
July 15, 2020