This 1996 photo provided by the American Museum of Natural History, shows an excavation site showing pottery vessels at Pueblo Bonito, Chaco Canyon, New Mexico. One pottery sherd at a time, archaeologist Patricia Crown has been working to unravel the mystery of chocolate and its importance to a civilization that once inhabited Chaco Canyon, believed to be a ceremonial and economic hub for indigenous people in what is now the American Southwest. Her discoveries over the last decade have shed more light on the widespread use of cacao across the region and the extent of early trade routes with Mesoamerica. But, she says, when it comes to Chaco, each discovery leads only to more questions that archaeologists and anthropologists need to answer. (American Museum of Natural History via AP)
Stories this photo appears in: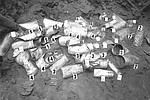 Life without chocolate? Never. Not even 1,000 years ago at Chaco Canyon.
By By Susan Montoya Bryan, Associated Press
October 1, 2019