Prior to the I-40 bypass, all Route 66 vehicle traffic came through Williams. The October 1984 bypass immediately changed the character of downtown Williams. (photo/WGCN archives)
Stories this photo appears in: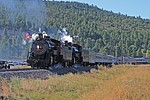 In 1984, the city of Williams went down in history as the last Route 66 town to be bypassed by Interstate-40. As predicted, many Williams businesses struggled as traffic circumvented the town on the newly constructed interstate, and the streets of Williams became quiet.