Pete Jones, Grand Canyon telecommunications specialist, supported the rescue of American pilot Scott O'Grady behind enemy lines. (Erin Ford/WGCN)
Stories this photo appears in: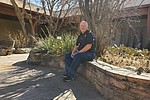 Growing up in northern California, there were only a few career choices available for recent high school graduates — logging or fishing. Pete Jones decided neither of those were his calling.