A diver from NPS' Submerged Resources Center assesses the B-29 for natural deterioration and any damage potentially done to the wreckage by divers. (Photo/NPS)
Stories this photo appears in: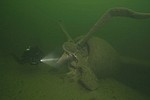 Las Vegas Scuba and Scuba Training and Technology will be the only companies allowed to host divers who want to see the plane.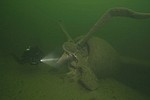 Resting in the murky depths of Lake Mead is a piece of American history that saw a change in wartime strategy: a plunge from the height of World War II to a creeping decades-long Cold War with the then-Soviet Union.