Staff Sgt. Andrew, Sgt. 1st Class Jay, and Sgt. 1st Class Jeff, all Soldiers assigned to 7th Special Forces Group, participate in mission planning with members of Helicopter Sea Combat Squadron Six prior to rigorous fast-rope rehearsals designed to help both teams successfully infiltrate enemy terrain during Red Flag Rescue. Red Flag Rescue is the world's premier air combat exercise and provides an opportunity for teams from all components and branches of the U.S. Military, as well as foreign allies, to train together and fine-tune procedures that will be used in combat. (Maj. Amanda Hammond/photo)
Stories this photo appears in: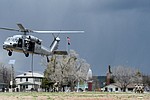 CAMP NAVAJO, Ariz. — It's seven in the morning, the sun is still cresting over the pine trees at Camp Navajo, and a light rain is falling.
By Maj. Amanda Hammond, Arizona Garrison Training Centers
July 9, 2019