Chimerica's daughter holds a snow maiden Kachina doll. The dolls are given to young Hopi girls as toys and teaching tools and become more elaborate as the child ages. (Erin Ford/WGCN)
Stories this photo appears in: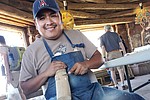 Whether they have the head of a cow, the feathers of a hummingbird or the rich cotton hair of the snow maiden, Kachina carver Darance Mak'wesa Chimerica said all Kachina have one thing in common: they bring the promise of a good life for the humans they watch over.