Speaker of the House Nancy Pelosi, D-Calif., flanked by Rep. Peter DeFazio, D-Ore., left, and Rep. Anthony Brown, D-Md., talks to reporters after signing a House-passed a bill requiring that all government workers receive retroactive pay after the partial shutdown ends, at the Capitol in Washington, Friday, Jan. 11, 2019. (AP Photo/J. Scott Applewhite)
Stories this photo appears in: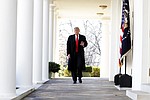 President Donald Trump announced the agreement to break the 35-day impasse as intensifying delays at the nation's airports and widespread disruptions brought new urgency to efforts to resolve the standoff.
By By ANDREW TAYLOR, ALAN FRAM and CATHERINE LUCEY, Associated Press
January 25, 2019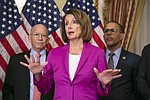 The White House says President Donald Trump has signed a bill that will require some 800,000 federal employees to be compensated for wages lost or work performed during the partial government shutdown.