OSHA experts run tests at the Museum Collections building Nov. 28, 2018.(Photo/Elston Stephenson)
Stories this photo appears in: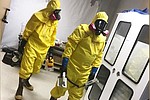 The National Park Service (NPS) and the Department of the Interior (DOI) completed an interagency safety review finding no radiation exposure health risk to employees or visitors from uranium ore samples at Grand Canyon National Park.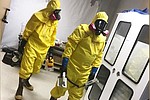 According to a preliminary interagency safety review, Grand Canyon employees and visitors aren't experiencing ongoing radiation exposure from uranium ore samples previously stored in the Museum Collection building.