Humpback chub are one of three species of chub that once inhabited the canyon, and are the only chub species still found in Grand Canyon. They have been protected under the ESA since 1967. (Photo/USFWS)
Stories this photo appears in: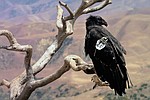 The Trump administration moved on Aug. 12 to weaken how it applies the 45-year-old Endangered Species Act, ordering changes that critics said will speed the loss of animals and plants at a time of record global extinctions.
By Ellen Knickmeyer/Associated Press
August 20, 2019