Williams Unified School District welcom new faculty and teachers for the 2019-2020 school year. From left: Williams High School Principal Eric Evans, fourth grade teacher Darcy Evans, CTE teacher Edward Kmetz, middle school math teacher Tessa Costich, high school resource teacher Thomas Sanzone and art teacher Jenna Rabe. (Photo/WUSD)
Stories this photo appears in: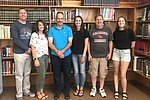 WILLIAMS, Ariz. — It's that time of year again — that's right, it's back-to-school time.