A 30-day public comment period is open from April 12 to May 12 on a proposed rule to outlaw predator hunting contests in Arizona. If approved, the final rule would be reviewed by the Governor's Regulatory Review Council before making its way to the governor. (Stock photo)
Stories this photo appears in: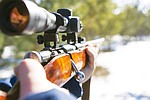 On April 12, Arizona Game and Fish commissioners heard the first of what could be many public comments on a proposed rulemaking to prohibit coyote killing contests in Arizona.