A kindergarten student shows off her work during independent writing time March 29. Students prepared by an early childhood program are more likely to know their letters and numbers, as well as exhibit more rounded social skills, according to Juliana Fontenot. (Erin Ford/WGCCN)
Stories this photo appears in: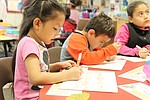 According to the National Education Association, getting a jumpstart on education in a quality preschool program can pay dividends later in life, including increased earning potential and higher academic achievement.