Grand Canyon students practice writing their letters and names during independent writing time. Kindergarten teacher Juliana Fontenot said she frequently divides her teaching objectives based on students' skills, including those who perform under and beyond grade level expectations. (Erin Ford/WGCCN)
Stories this photo appears in: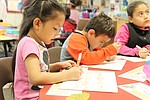 According to the National Education Association, getting a jumpstart on education in a quality preschool program can pay dividends later in life, including increased earning potential and higher academic achievement.