Micah Kiesow, soil scientist for the Kaibab National Forest and part of the Burned Area Emergency Response team, leads the BAER team through low, moderate and high severity burn areas on the North Rim's Cat and Stina fires. (Photo/KNF)
Stories this photo appears in: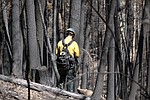 According to Kaibab National Forest spokeswoman Jackie Banks, only a very small percentage of fires on the Kaibab are actively suppressed. In 2017, for example, out of the roughly 13,000 acres that burned, only about 300 were managed with an objective to suppress the flames – that's just over 2 percent. The rest, Banks said, were allowed to burn in order to benefit the forest ecosystem.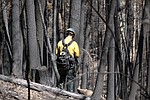 As wildfires tear through acres and acres of forest, onlookers are often horrified when they see the charred remains of a once-lush landscape.