Fall colors changing on the North Kaibab Ranger District in 2017. Visitors can expect prime viewing to last until around the second week of October. (Kaibab National Forest)
Stories this photo appears in: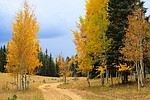 Grand Canyon National Park's North Rim will begin day-use operations Oct. 19.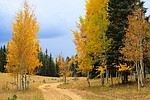 Kaibab National Forest is seeking public input and comments on a proposed project to reduce the threat of uncharacteristic, high-intensity wildfire and to restore the structure, species composition and function of ecosystems on the Kaibab Plateau.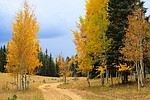 Visitors looking to take in the colorful changing of the leaves have a variety of options on both the Coconino and Kaibab National Forests.