Biologists from Arizona Game and Fish Department and the U.S. Forest Service work with Quicksilver Air to capture and collar pronghorn in the Garland Prairie area near Williams. The purpose of the project is to track pronghorn and determine the impacts of fences and roads on their migration. (Photos/AZGFD)
Stories this photo appears in: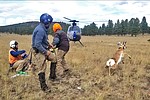 WILLIAMS, Ariz. — Forget about the cheetah, the pronghorn is one of the fastest land animals in the world and lives right next door.