A break in the transcanyon pipeline March 9 has been repaired, but conservation measures will continue until water levels are sustainable. (Photo/NPS)
Stories this photo appears in: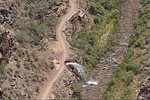 Grand Canyon National Park has nearly six million visitors per year, from viewpoint drivers to hardcore hikers and even man's best friends, and they all need to stay hydrated.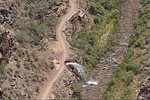 As a result of water conservation, the Grand Canyon National Park is modifying Level 3 water restrictions to allow park concessioners to begin dishwashing at selected dining establishments.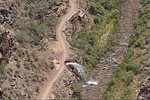 Although breaks in the Transcanyon Pipeline were repaired late last week, Grand Canyon National Park will remain in Level 3 water restrictions until the park's water tanks have filled to sustainable levels.