As many as 200 bald eagles call northern Arizona home during the winter season.
Stories this photo appears in: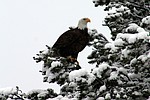 FLAGSTAFF, Ariz. — Bald Eagles are back in Flagstaff for annual eagle event held in partnership with Arizona Game and Fish, Liberty Wildlife, and Arizona Watchable Wildlife Experience.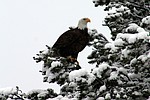 Did you know that Arizona is visited by over 200 bald eagles during the winter?