August Sky Chart. (Art/Barry D. Malpas)
Stories this photo appears in: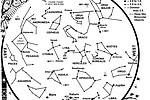 In high school science class, you were told that there were three fundamental atomic particles. As far as what most people need to know, these electrons, protons and neutrons are probably as far as most people study in chemistry.