Lisa Jones and her "Little" Josh Van Winkle take a break from their activity at a weekly Big Brother Big Sister meeting. (Wendy Howell/WGCN)
Stories this photo appears in: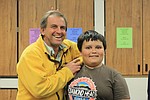 More than the snacks, more than the activities, hanging out with his "Big" is his favorite thing to do every Thursday, said "Little" Josh Van Winkle. Van Winkle is one of several children at Williams Elementary-Middle School who participate in the Big Brothers Big Sisters program after school.