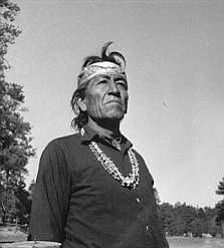 Touchen DoniTing was a munitions handler at Navajo Ordnance Depot in 1942. He was one of many Native workers
Stories this photo appears in:
Fields of yellow calliopsis flowers, wide swaths of ponderosa pines, the majestic San Francisco Peaks. There is so much to see on I-40 between Williams and Flagstaff, so it's not surprising if the communities of Bellemont and Camp Navajo slip by unnoticed.