Lake Mead with visible water line. Arizona Department of Water Resources reported an additional 14 feet of elevation in the lake in 2017.
Stories this photo appears in: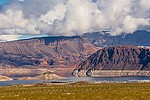 The federal Bureau of Reclamation (BOR) recently completed its August 2017 24-Month Study, which is part of a study of hydrology and projected operations of the Colorado River system.