Arizona Game and Fish and the U.S. Fish and Wildlife Service have determined Mexican wolf conservation efforts will be focused south of the I-40 corridor.
Stories this photo appears in: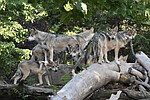 Wildlife managers are investigating the death of a Mexican Gray Wolf found last month in Arizona.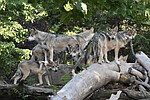 More than any other public lands, national forests often serve as the backdrop for conflicts between residents — native wildlife and the people who live on and work the lands.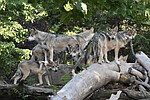 The latest international research study on Mexican wolves says that encouraging recovery of the endangered subspecies north of its outlined historical range would be detrimental to preserving the wolf's unique characteristics.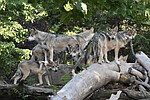 Federal wildlife managers are investigating the deaths of two endangered Mexican gray wolves.
By Associated Press
March 20, 2018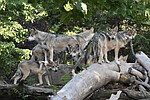 The U.S. Fish and Wildlife Service (USFWS) has completed a revision to the Mexican Wolf Recovery Plan.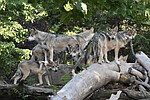 A recent peer-reviewed scientific paper reaffirmed the historical range of the endangered Mexican wolf as being southeastern Arizona, southwestern New Mexico and the Sierra Madre Mountains in Mexico.