Williams Middle School Falcons placed first in the A Tournament Feb. 17 in Ash Fork. The team includes: Coach Biran Langenbach, Luis Urias, Cody Jensen, Mike Kessler, Zayne Grantham, Luis Arredondo, Oryn Orozco, Caesar Santana, Deniz Chavez and Steve Sutton.
Stories this photo appears in: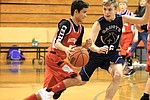 The I-40 League middle school basketball teams ended their season Feb. 18 at the end of season tournament.