Penalties for a DUI in Arizona can include jail time, thousands of dollars in fines, community service, completion of an alcohol/drug screening, treatment and education programs and installation of an ignition interlock device for every vehicle driven.
Stories this photo appears in: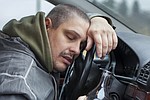 Being convicted of driving under the influence (DUI) does many things to one's life. For a 19-year-old recent high school graduate, it put him in debt and forced him to reconsider his future endeavors. "The effects aren't just when the money ends or when you spend your time, it's on into your life and career, just for one time," he said.
By By Max Efrein Special to the Williams-Grand Canyon News
December 26, 2017