Volunteers and wildlife managers modify fences in Spring Valley Aug. 12. Workers moved the bottom wire up 18-20 inches to allow pronghorn to pass under the fences.
Stories this photo appears in: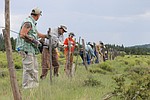 Pronghorn are the fastest land mammals in North America, but put a fence in front of them and they come to a screeching halt.