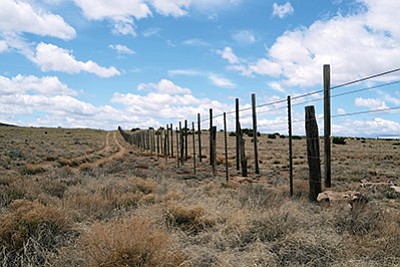 A wildlife friendly bison fence is being constructed at Raymond Wildlife Area. The specific spacing of the stay posts keep the bison away from the fence. Loretta Yerian/WGCN
Stories this photo appears in:
GRAND CANYON, Ariz. - The American Bison has been a part of American history for centuries.Considered a sacred animal to many Native American tribes, a primary food source and livelihood for Natives, trappers and later buffalo hunters, the America Bison has stood the test of time and prevailed. Now in a national effort to preserve genetically pure bison lineage, Arizona is joining a national effort to create a conservation bison herd.
By Loretta Yerian
May 3, 2016