The US Fish and Wildlife Service is required to prepare a revised recovery plan for the Mexican Gray Wolf after delaying the process for over 30 years. Photo/John and Karen Hollingsworth/USFWS
Stories this photo appears in: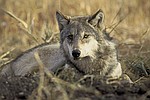 TUCSON, Ariz. - On April 26, a coalition of wolf conservation groups, environmental organizations and a retired federal wolf biologist announced a court settlement requiring the U.S. Fish and Wildlife Service (USFW) to prepare a long-delayed recovery plan for Mexican gray wolves by November 2017.
By Williams-Grand Canyon News
May 3, 2016