Work has already started on Bearizona's expansion, which will include a new gift shop, restaurant and office space that will hopefully be open in May. In mid-February, Drill Tech workers hit water in a well they're drilling on Bearizona Wildlife Park's grounds. The well will help serve the new development, as well as a possible hotel in the future. Ryan Williams/WGCN
Stories this photo appears in: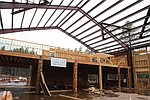 WILLIAMS, Ariz. - Since November, Bearizona Wildlife Park has been preparing for a major expansion project by drilling a private well. And in the middle of last month, they achieved their goal by hitting water, although the amount of water available is still uncertain.
By Marissa Freireich
March 3, 2015